Cincinnati Saab Repair For The Automobile Of Kings
Were you aware that Saab is one of only a few cars in the world with a royal warrant? A royal warrant is bestowed by royalty to indicate that it is the official and only car manufacturer for a nation's royal house. Such is the case of Saab in Sweden. But, this probably doesn't surprise you as a Saab owner. It just confirms what you already knew. A car as dependable, precisely built and long-lasting as a Saab is a worthy candidate for royalty. You have likely found that you should treat it like royalty, as it has treated you. European Auto Specialists is the Cincinnati Saab repair for the automobile of kings.
In Cincinnati, Saab Service Just Doesn't Get Any Better.
It is with this respect for the history and tradition of your Saab that we'll fix your car like it's our own. Specialists in European car maintenance, we know Saabs inside and out and have developed a keen eye for their special needs and potential trouble areas. We want you to enjoy your vehicle for as long as you choose to do so. We will work with you to keep your prized vehicle efficiently and safely moving along, in the most peak condition possible from a professional Cincinnati Saab mechanic.
Is Your Car a Classic or Antique Suitable for Car Shows?
Are you repairing or restoring an antique specialty vehicle? It can be a fulfilling hobby, but it's also a lot of work. And it can be a money pit if you're not careful. Sinking thousands of dollars into a vehicle restoration is no guarantee the end result will be worth it. That's why it's important to work with a reputable auto garage that has experience in vehicle restoration. We can help you control your costs, get the most for your investment, and caution you when the investment simply isn't worth the return. We've been restoring and refurbishing Saabs and other European vehicles for nearly 20 years now. We've learned a thing or two along the way and would be happy to share some advice.
At European Auto Specialists, one of our many specialties is the care of classic and antique cars. Many of our mechanics have their own historic pieces. On our weekends, we like work on our own vehicles. We understand the special care that's required.
So whether you have a car you'd like to restore, or an already restored car you'd like to see continue running in top condition, our mechanics can do it all. And we understand that caring and restoring classic and antique cars is often a learning process for the owners. We're always glad to share our expertise. Feel free to just stop in and pick our brains or share a little shop talk. Repairing and caring for classic cars is a passionate hobby of ours. It's more than just a job. We're enthusiasts, just like you!
Dedicated Saab Maintenance Specialists
We've spent a long time building up our reputation as the go-to specialists for Saab maintenance. That's because we live and breathe these vehicles, and take care of them as if they were our own. We understand the special care, mechanical work, and attention that even a car with a royal warrant requires. We know what makes them tick and how to treat them right. Why leave your baby in the hands of any mechanic? Every one of our mechanics is specialized, hired for their detailed knowledge of how to troubleshoot European cars. They're artists. We'll treat your Saab like the work of art that it is.
With over 60 years of experience, we'll treat your Saab like it's our own. Our Saab mechanics have an unbeatable knowledge of Saab repair. We specialize in all makes of European automobiles, but we can confidently do work on any car, including Toyota, Lexus, Subaru, Honda and more. Call us today to schedule an appointment.
The Saab Difference at European Auto Specialists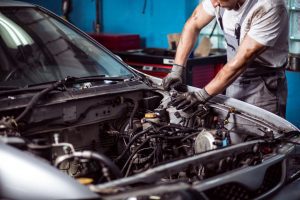 Though we may specialize in European automobiles, we service every make and model under the sun, foreign or domestic. When you work with us, you will get superior car care, no matter what you drive. We go above and beyond with every job we do. For our technicians, it's the quality of the work that's important, which means that we are interested in the long term relationship of each client. Many of our customers have been coming to us for years as their trusted auto solution. They know that with us they can not only know how long it's going to take to fix their car, but also know that it will be fixed right. There really is no substitute for a tried and trusted mechanic you can rely on to have your back, every time. Our customers are like family.