Shockingly Important Cincinnati Car Electrical Specialists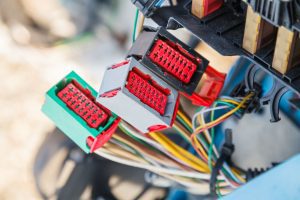 Auto repair is not nearly as simple as it used to be back in the good old days. If your vehicle is having electrical problems, and changing the fuse doesn't work, you probably don't want to go rummaging around in your car's electrical system by yourself. Give your favorite car electrical specialists a call, and they can help you take care of all of your car troubleshooting needs.
Some Problems Require a Skilled Car Electrical Specialist
The most basic parts of a car's electrical system contains your starter, battery, and alternator. New vehicles also include sophisticated computing systems that help to manage things like steering, brakes, and even the engine. As cars get more high tech, car electrical specialists are often needed for repairs that were once fairly simple. And though there are some things that you can still fix for yourself in your garage in Cincinnati, others will take the expertise of an electrical technician.
There are a whole host of signs that you may need to take your vehicle to a car mechanic who specializes in electrical systems.
For example:
A car that simply doesn't start
A car with flickering interior or dashboard lights
Dimming headlights
Windows that won't go down—or up
A broken back-up camera
A check engine light
Anything that involves a screen or sensor that's not working quite right
Keep in mind that if you are having problem with the dashboard lights, the first step is to check your dimmer dial. It could be that you just need to readjust the brightness level on your dash, and don't need to call a car electrical specialist. Be sure to check the dimmer first to avoid an embarrassing conversation.
Fixing Blown Fuses and Other Pesky Electrical Problems
Some car electrical problems simply stem from a blown fuse. If you locate the fuse (your owner's manual will help you locate the correct fuse's location), you can replace it and see if your auto repair problem is solved. It may be that simple, but it if you find that are blowing that same fuse (or others) on a regular basis, you may want to call the car electrical specialists. If you keep blowing fuses there may be a deeper problem with the electrical system in your car. 
Did you notice that you were doing a specific thing when the fuse blew? If the fuse goes again when you do the same thing, you should call a car electrical specialist ASAP. Something is causing that fuse to be overloaded, which is never a good sign.  It may just be a malfunctioning part, like as a fuel pump, or some faulty wires, but it may ultimately be something more complex.
Having an Electrical Problem? There's an App for That!
If your car has a problem—say a check engine light—you could try diagnosing the problem yourself with a smartphone, the right digital app, and an OBD device which connects your phone to your engine's computer.
Some of the better car diagnostic apps include:
Torque Pro (OBD 2 & Car)
HobDrive
OBD Car Doctor Pro
Carista OBD2
OBD Auto Doctor
EOBD Facile
Apps like these will identify the error code your car is throwing. Once you have that code you should be able to use the internet to research the code and any possible solutions. It will give you an idea of  whether you can handle your car repair needs, or if you need to get a professional car electrical specialist to take care of it. If there is a problem, you may still need to bring your car to your favorite auto shop for repair. But 9 times out of 10, the light is on for something that's not a big deal, like a leaking exhaust pipe or loose gas cap. After you read and research the code yourself, you'll have a better idea of what the repair may entail, and whether you want to try to handle it yourself or take it to your favorite auto repair shop.
Trusted Car Repair in Cincinnati That Can't Be Beat
If the issue seems to be more than just a blown fuse or weak battery, bring your car to our automobile repair shop. One of our car mechanics can hook it up and run a number of diagnostic tests to help pinpoint the issue. All of our technicians are electrical specialists who can get to the bottom of the error light and find a solution.
As cars have become more computerized, their electrical problems have become more complex. Sometimes car troubleshooting will turn up a loose wire, other times a glitch in the computer. Sometimes a reset may fix what ails it, or there could be a deeper problem with a mechanical part or blown sensor.
We have been providing Cincinnati with quality car repair since 2001. Our mechanics are car electrical specialists who have over 60 years of combined experience in foreign car repair, vintage car repair, British car repair and just about everything in between. We know everything when it comes to foreign car repair, from mechanical to electrical. We are a one-stop shop for all car repair, so if the problem is more than electrical, we can get to the bottom of it with a solution that works.
Give us a call or fill out our online contact form. We can usually get you in fast and are happy to let you know how long a repair will take. We can have your car fixed and back on the road trouble-free in no time at all.