Why and How Often You Need Your Brakes Flushed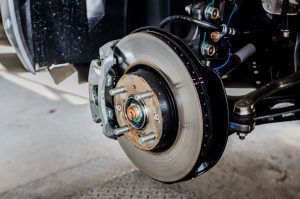 When's the last time you had your brakes flushed by your car mechanic? Not sure? You're not alone. Most people don't even think about flushing their brakes. It's not a top priority. But the fact is that having your brakes flushed regularly can be just as important for the health of your braking system as timely brake jobs. It all comes down to cost. Would you rather pay $100 to have your brake fluid flushed by a trusted automobile repair shop, or pay hundreds of dollars to have that same auto repair shop replace every part of your braking system? Like most car repairs, being proactive with your brakes can help you save money big time in the long run.
Inspection: The Way to Tell If You Needs a Brake Flush Service
Whether or not you need a brake flush isn't really determined by mileage. It's more about how exposed the fluid has been to contaminants like rust, water and dirt. And if your brake fluid is dirty, it can wreak havoc on your entire braking system. The only way to know for sure if you need a flush is to physically inspect the brake fluid. Brake fluid operates in a closed system which means that, in theory, it can go forever without being changed. In theory doesn't always work in the real world, however. In the real world it will eventually become dirty due to leaks in the brake lines or other exposure to normal contaminants.
The only way to tell if you need a brake flush is to inspect the fluid. If the fluid is a translucent color, you're good to go. If it's dark brown, it's definitely time for a brake flush. And if you aren't certain whether or not your brake fluid looks okay, call your local auto repair shop and they can help you out.
Cincinnati Car Repair with a Specialist's Touch Stops You on a Dime
In addition to brake flush services, we do a full range of car repairs. We specialize in European vehicles and European brakes but we are qualified to service all makes and models. Our ASE certified master mechanics know cars inside and out, whether you need foreign car repair or domestic. It is more than just our job. It is our passion. We'll repair your vehicle as if it was our own, and because of that we strive to exceed your expectations with each and every repair job.
You can always expect world-class car repair for domestic, European, and imported vehicles. We're not just focused any this single job but are interesting in building and maintaining a satisfied relationship of trust with our clients that will last for years to come. Serving Cincinnati since 2001, our car repair business is founded on customer satisfaction and confidence. Don't worry. You're in good hands. All of our work is guaranteed and certified.
We specialize in:
Brakes
Suspensions
Shocks and struts
Exhaust and Muffler
Transmissions
Air conditioning
And more
Give us a call or fill out our online contact form. We can let you know how long your repair will take, how much it will cost and get your car in right away. Our technicians are dedicated to convenience and quality.