Car Troubleshooting 101: Repairs You Can Do Yourself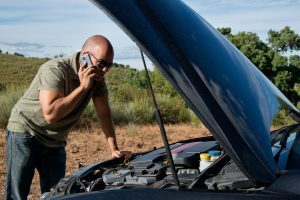 We understand, cars can be intimidating, and there are times when there always seems to be something new that goes wrong. But they are still machines that can be fixed, even for the layman with only a little know-how. Here are some car troubleshooting tips that any idiot can do. (Not that we'd call you an idiot.) Save money by doing more work yourself, and have the knowledge to decide when it's time to take your car to your favorite auto repair shop.
For starters, your best tool when it comes to troubleshooting your car is the vehicle computer. Sites like AutoMD and maybe even your local car mechanic offer some great apps when it comes to car diagnostics, including instructions on what to do if something goes wrong, which is an extra handy feature when you're stranded on the side of the road.
Troubleshooting: Car Repair in the Age of Information
Don't forget to check the Internet. Wonder if a car repair is worth your time, if it's in your skill level, or if you should just suck it up and call a car repair shop? RepairPal offers a handy reference on the cost of many repairs. Then you can ask that pivotal question: How much is my Saturday afternoon worth, and how long will the repair take if an auto repair professional does it?
Another great method for DIY car troubleshooting is a big ol' piece of cardboard. Place it under the engine of your car and see what leaks out. Oil is not such a big deal. It just means your engine has the miles. Leaking brake fluid or radiator fluid? You better call a car mechanic.
Another helpful tool in your car repair arsenal is online videos. You may also be able to avoid a trip to the auto repair shop entirely if you find the right one. The perfect auto repair video will walk you through every step of the car repair process, right from your phone. Does your car need new brakes? There's a video for that. Does it need its oil changed? There is one for that too. Showing is much better than telling when it comes to understanding car repair.
Time to Tap Out: When You Need to Call on a Professional
If you've reached the end of your expertise and need to take your car into an experienced professional automobile repair shop, you can rely on European Auto Specialists. We'll tell it to you straight, in simple language you can understand. Not sure what the problem is? We excel in all forms of import auto maintenance and repair, including car troubleshooting and car diagnostics. We also believe in building long-term relationships with our customers. So, if we know the work doesn't need to be done or we can suggest a more affordable option, we'll tell you. Our relationship with our customers is everything.
While we specialize in European and foreign car repair, we can service any vehicle, including Japanese and domestic. Since 2001, we have proudly served the Cincinnati area with top of the line expert car repair. . Still not ready to commit? Give us a call and we can answer your questions. From how long a repair will take to how much that repair will cost, we will have you covered.
Diagnostic Car Apps: The Mechanic's Secret to Knowing Your  Engine 
We're professional car mechanics. But without technology, we wouldn't be nearly as smart as we pretend. The beauty of auto repair technology is that it's become both ubiquitous and very affordable. With a smartphone,  the right app, and some tools to make the connection, you can learn just about everything your car mechanic learns—even if you may not have the equipment to fix it. You'll see what's  wrong with your engine by code, which you can then look up to diagnose the problem.Even if you're not much of a hands-on mechanic yourself, you can diagnose that check engine light to see if its worth bringing in to us. Is it just a faulty sensor or something critical that could leave you stranded? Did you leave the gas cap loose again? Diagnostic apps allow you to do your own car troubleshooting, and save you and your favorite car mechanic time and effort.