Cincinnati Car Diagnostics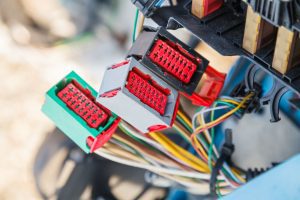 Technology is a beautiful thing. It puts the power of knowledge in your hand, literally. In your pocket, your phone carries more data and computing power than it took to get the astronauts to the moon. That's incredibly empowering. And the beautiful thing is this same technology completely changes the game on car repair. Car diagnostics apps give the power to the consumer. We'll explain how.
Since 1996, all vehicles sold in the US, including European imports, are required to provide a connection that tells mechanics as well as inspectors car diagnostic information about its performance. Thanks to smartphone technology, this valuable data can now be accessed through your phone with the help of a variety of apps. Though apps may come and go, there's always an easier way to make your diagnosis at home.
So the next time that pesky Check Engine light comes on, you can diagnose the problem yourself—or at least have a rough idea whether or not it's serious. You don't need to be an electrical specialist. You don't even need to be a mechanic. But you'll know if it's just an oxygen sensor or a more critical emergency. Diagnostic tools take the guesswork out of "Should I bring my car into my Cincinnati mechanic, or is the problem not worth worrying about?"
Torque Pro: One of the Original and Best Known Car Diagnosis Apps
In addition to being one of the car diagnostic apps that has been around for the longest, Torque is also one of the most popular. As with all of these apps, you will need to purchase a OBD scanner to interface with your car and "read" what the problem is. Always be sure to check with whatever app you use to make sure that you get or have a compatible scanner. The difference with Torque is that it is compatible with many modern OBD2 devices. In addition to diagnosing what those pesky check engine lights are about, Torque will also give you real-time logging of your car's conditions, making a mini dash on your phone with speed, rpms, horsepower etc.
OBD Auto Doctor: Take You Car to the Doc In Your Own Garage
The OBD Auto Doctor is another app that allows you to diagnose your car's check engine lights with the simplicity of plugging in an OBD device. It can also help you monitor your engines performance and functionality and even help you to save gas by looking at your fuel economy and analyzing your driving style.
EOBD Facile: Makes Diagnosing Your Cars Errors Just That—Easy
EOBD Facile is an easy and intuitive car diagnostic app. Like the other apps in this collection, you will need an OBD device, but this app in particular makes it easy to both diagnose and clear those pesky warning and check engine lights. If you are interested in keeping track of the trips you make in your car—wondering what that mileage looks like long term—Facile might be the app for you.
OBD Devices are Great, But Sometimes You Need a Professional Mechanic
If your car diagnostic app tells you something that you can't fix, we'd be happy to help. Since 2001, we've been serving the Cincinnati area with over 60 years of combined experience specializing in European and other foreign cars. We service all makes and models, but have special expertise when it comes to repairing those European makes, including Saab, Mercedes, BMW, Opal, Ferrari, Porsche, Toyota, Volvo, Audi, Volkswagen, Honda, Mini, Lexus, Austin Healey, and Jaguar.
All of our master mechanics are ASE certified and our work is guaranteed and fully ensured. Contact us today for an estimate on how long a repair will take and how much it will cost. Call us during business hours, or fill out our online form any time to schedule an appointment. We're happy to answer any questions you might have.