Finding a Cincinnati Automobile Repair Shop To Serve You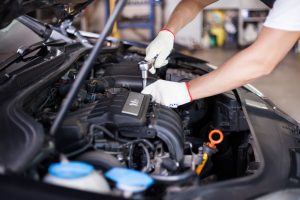 Own a car, and you've probably got your own share of unreliable car repair garage horror stories. When you own something nice like a Porsche, BMW, Jaguar or other specialty European model, those automobile repair shop stories horror stories can only get worse. Never take your car for import auto repair at a lube shop; that's just asking for trouble. European cars require highly specialized auto repair—don't take your baby to just anywhere. Let's face it—the range of quality of auto repair shops that offer car repair in Cincinnati is all over the board. You can find some great auto garages—but you can also find some real hacks who deliver inferior care and then have the audacity to ask you to pay inflated prices for their dubious "mechanical work."
That's why at our auto garage in Cincinnati, we pride ourselves in providing highly exceptional car repair that won't break the bank. We specialize in repairing European cars like Volvos, Porsches, BMWs, and Jaguars. We live and breathe these beautiful foreign car makes and models. When we take your car in for mechanical work, we'll treat it like it's our own.
Appearances can be deceiving. But if you do your homework, you can spot many of the shadier car repair shops before you let them anywhere near your vehicle. A great car mechanic looks to earn your business and trust through honestly and great auto repair work. They're not just looking to make money off of this job, but instead are looking for a long term relationship. How do you decide which Cincinnati auto repair shop to trust? Here's how to spot the good guys.
Is the Shop is Reliable? Ask for Work Authorized in Writing
Always get everything in writing. Signing a blank authorization form is like selling your soul for some Cincinnati auto repair. Make sure every repair is described, authorized, and estimated before they touch so much as a lug nut to start the repair. Sure, estimates can vary, but if the price is off by more than $50, they should call and consult you about the extra expense for any car repair before any additional work is done. Any decent auto repair mechanic will guarantee their work and stand by the price they quoted you, unless there is a very good reason otherwise. Any change in the estimate or scope of the mechanical work must be agreed upon before the work is done.
Trustworthy Cincinnati Car Repair Will Set You At Ease
Since 2001, we have provided Cincinnati with exceptional European car repair. Our auto repair mechanics have over 60 years of experience servicing fine European cars. All of our technicians are certified and our work is guaranteed. While our specialty is in repairing and maintaining European cars, we service all makes and models, including foreign and domestic. We deliver the finest Cincinnati car repair and customer service; we are a one-stop shop for all your car repair needs.
The Specialist Touch That Is Hard to Find Just Anywhere
Though we can service both domestic, European and other foreign cars, our specialty truly is European cars, such as Volvo, Porsche, BMW, Mercedes, Jaguar and Audi.. We live and breathe these machines. Our mechanics own them and have serviced them their whole lives. Because of this familiarity, our car mechanics know that these import cars require specialized care. We understand the science and the art behind keeping a beautiful European machine running in top order. We have the experience and the passion to make your car purr. We love European cars, and that's why we absolutely love what we do. The difference our passion for mechanical work on European cars makes is subtle but significant. We care for your vehicle and will repair and maintain it as if it were our own. That has been the foundation of our loyal customer base, ever since we started serving the Cincinnati area in 2001. Our mechanics have over 60 years of combined experience repairing European cars. We are happy to answer any question from "How long will it take to repair my car?" to "Which Audi do you think is superior?" We want our customers to be comfortable asking us questions because we want them to be our customers for the life of their car. And if we have anything to say about it, that car's life will be for many years to come.